INTERVIEW BÁRBARA SÁNCHEZ-KANE: ¡SANCHEZ-KANEISMO!
Culture / Design / Fashion
7 Feb 19 10:56 pm
An interview with Bárbara Sánchez Kane about the past, present and future of Sánchez-Kane, Mexican culture and folklore, the political, social and religious context and everything else that has inspired her work since the beginning.
By Jonathan Velardi.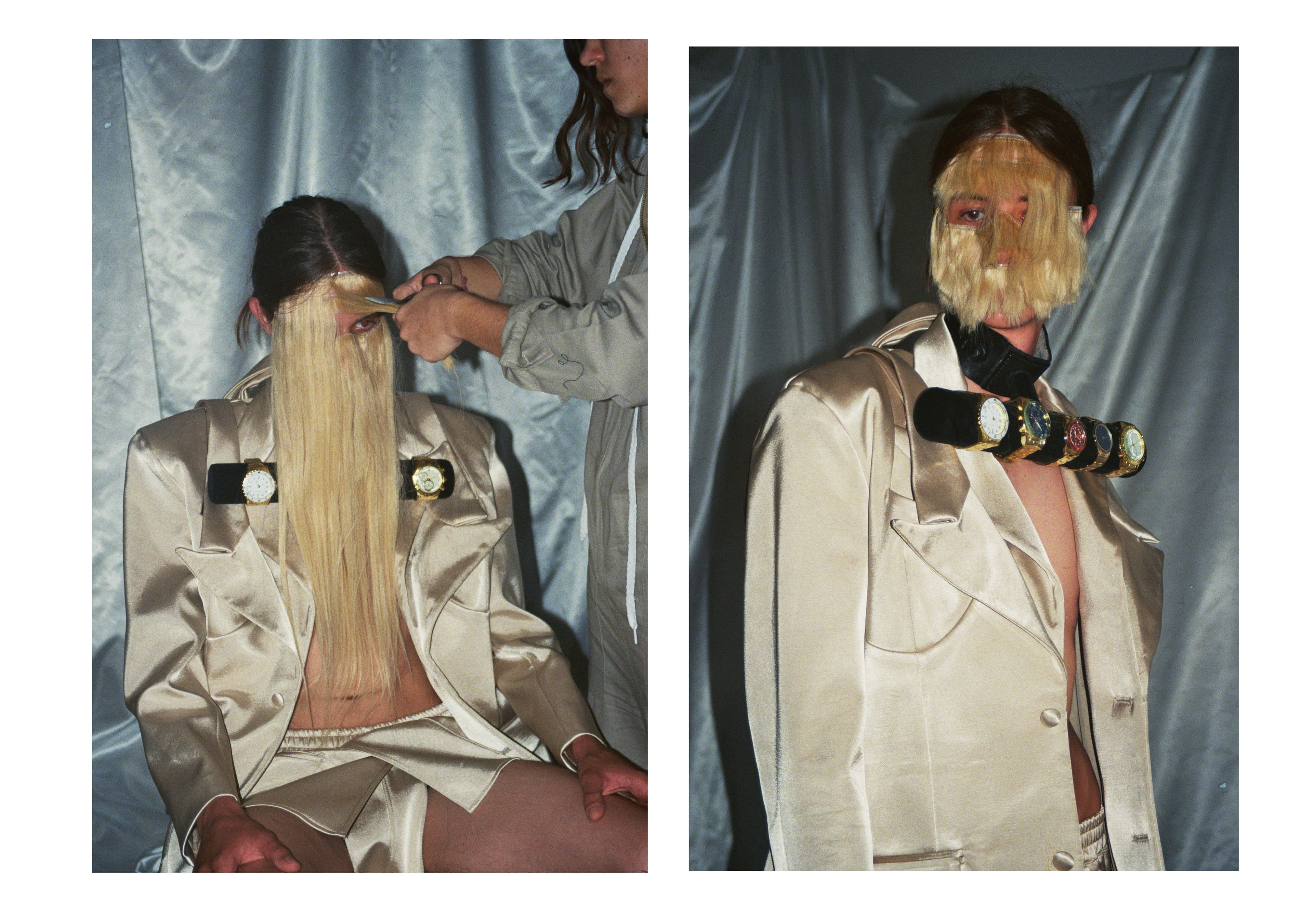 JV  How did you get into designing menswear? It was an unconventional trajectory.
BSK  I have a background in industrial engineering and six months before finishing, I experienced some personal difficulties, and I was thinking about what I wanted to do for the rest of my life. I wanted to study design. I was never the type to play with Barbies and dress them up. But I was interested in dressing myself and expressing myself with clothes. Fashion was the inevitable way to go. So I chose to study fashion design at Polimoda, Florence, Italy.
I started when I was 24 – the first year was very experimental. Engineering affected my process – when you're playing with sartorial elements, the male body is more rigid than the female body: tailoring, constructed forms etc. 80% of my clothes today is menswear, however I may be designing clothes on a male 'figurino' (mannequin), but my clothes are for whoever wants to wear them.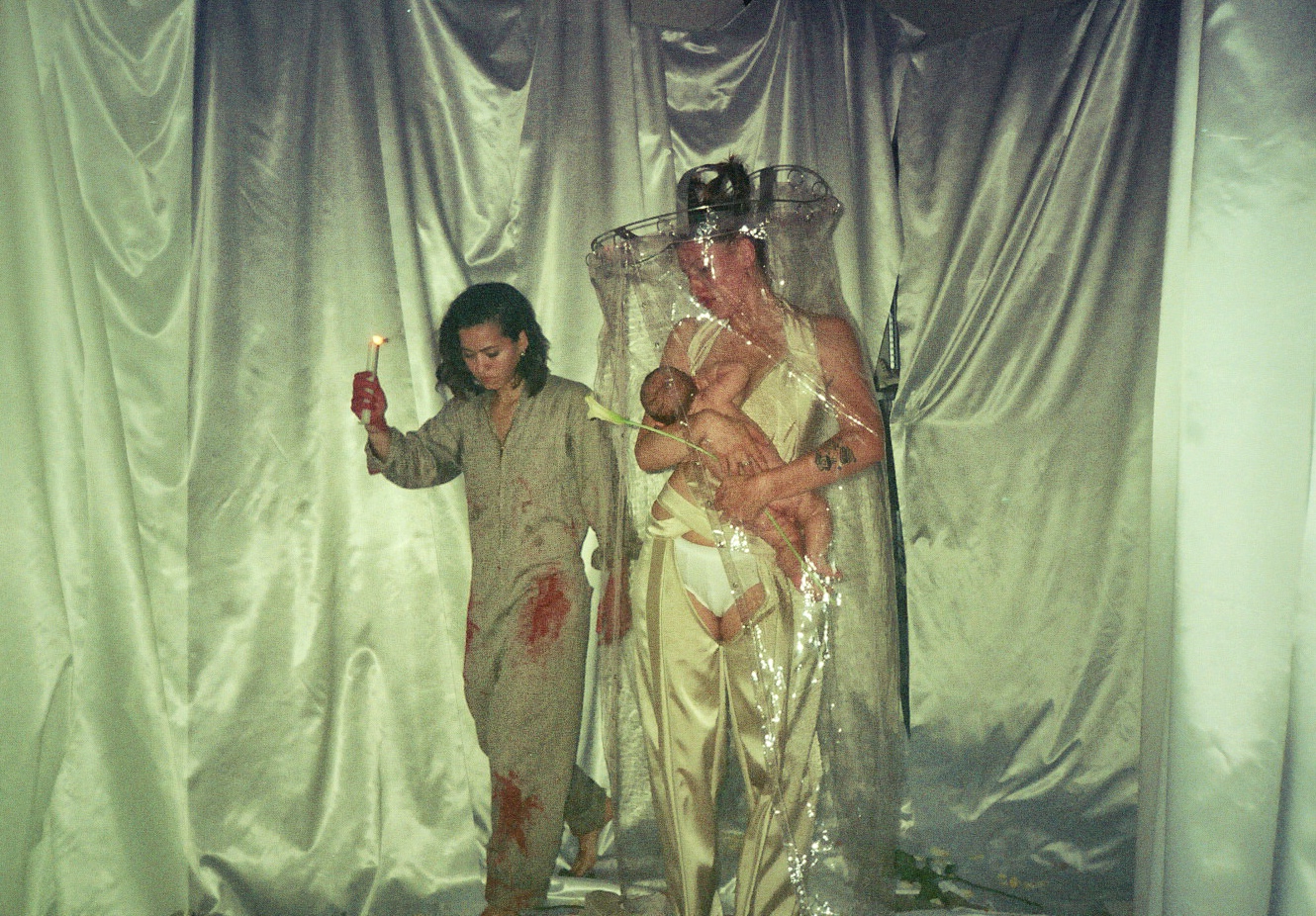 JV  When you were studying in Florence, who in fashion were you looking at?
BSK  This is embarrassing, but I remember my interview with the dean of Polimoda. I was still in Mexico. He asked, who's your favorite designer? "The Row", I said. Don't get me wrong, I admire the label, lead by businesswomen, but it wasn't until I was accepted and arrived in Florence that I was more exposed to more. At that time, Luisaviaroma was well curated. Then I remember my friend had these amazing kimonos. "Who made these kimonos?" and they said, "Walter!" "Who's Walter?" That's how I got involved with Bernard Willhelm, all the people that did an internship with him – he's just great!
JV  You're a woman, designing menswear – it's not very common, but how you express reasoning is totally valid – why isn't it more common? How do you function within the fashion industry?
BSK  I find it funny how everyone expects me to be a man. Two men actually: Sanchez and Kane! My brand is very sexual – it revolves around themes of kink, the erotic and humor – it's very sarcastic. Because of these things, I think people assume a man is behind the label. When they find out it's a woman, it's just me. Barbara. One person. Not two men but one woman. I hope I'm contributing to an alternate take on what menswear 'should be' – it's from a woman's point of view and this is important. Even if we say it's from a Mexican, lesbian's point of view – it gives menswear an even greater DNA, to what we're used to.
JV  What's your personal style?
BSK  My personal style leans towards tailoring, it's a translation of what I like to wear; experimentation of tailoring.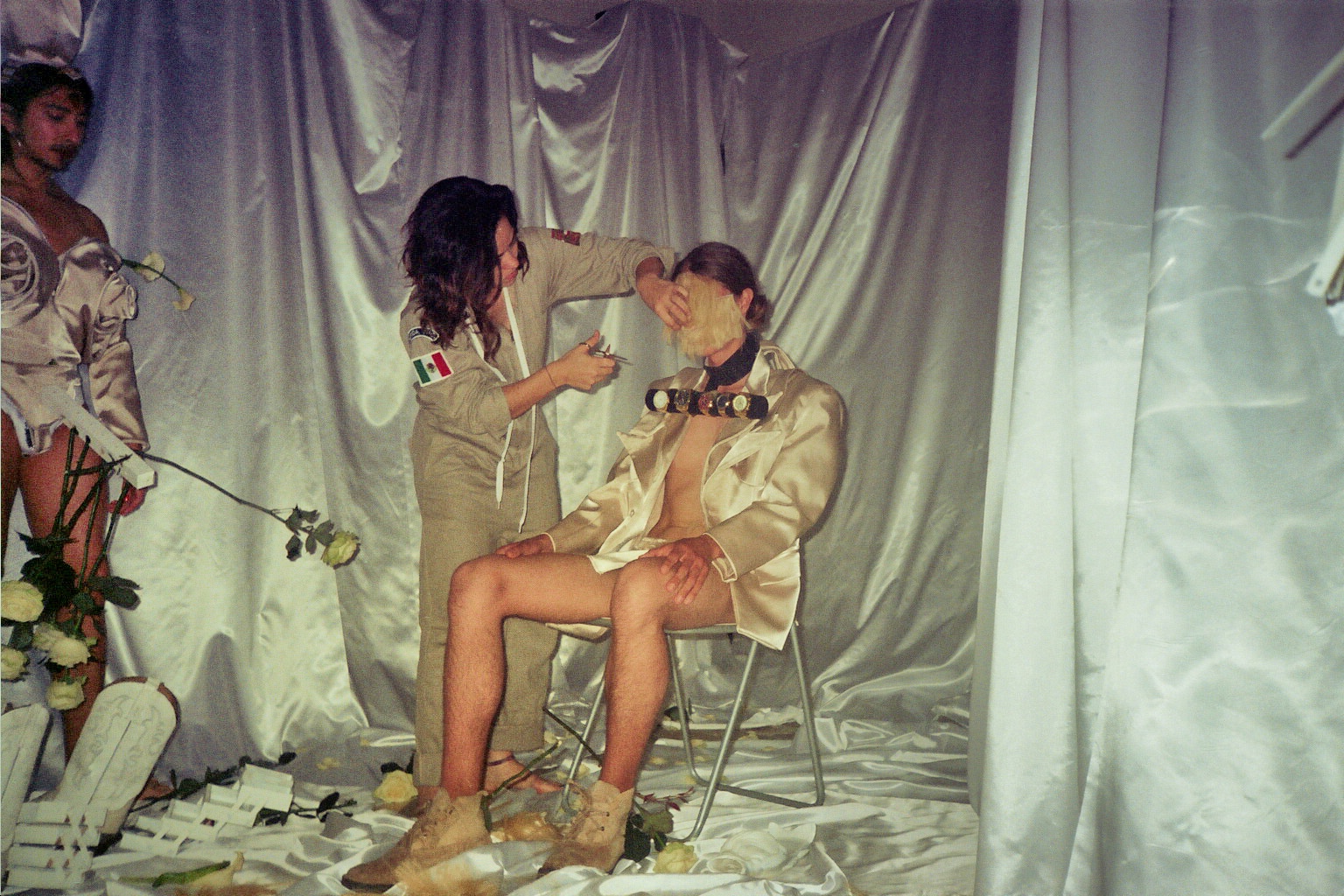 JV  Tell me more about your interest in kink, sarcasm etc. all of themes directions can and do act as independent inspiration for many designers. But you bring them all together. You're dismissing so many taboos – political, sexual, cultural–, are these tools used for accessibility or are they used to seduce?
BSK  I grew up very isolated from any kind of artistic expression in a small catholic town in the south of Mexico. It wasn't until I moved to Italy that I was taught that creativity has no permission. At that time I was also experimenting with my sexuality. Before that, I was too afraid. I was too afraid of anything sexy. I couldn't explain it: I wasn't true to myself. Fashion was a release and I'm very in touch with my sexuality. Mexicans are very sarcastic. The irony is clever. If I take traditional things of Mexcian culture – Mayans etc – I twist it and make it my own. I put the Sánchez-Kaneismo on it! I design without thinking about how people will react to my clothes. Why is fashion so serious?
JV  Was your use of cultural nuance inspired by Italian culture and its association with fashion?
BSK  My years in Italy literally gave me permission to create. It educated my eye: showed me there are different sides of beauty. I didn't know how to draw when I arrived at Polimoda. But I soon realized that I could draw in a different way, or collage or mixed media. Being able to express yourself successfully is what matters. Fuck it. Beauty comes in different forms
JV  Let's talk about the parallels between Italy and Mexico – culturally, religiously – also the unspoken culture of two very catholic systems – with an underlying curiosity for queer/underground culture – an acceptance, but only to a point. With regards to Mexico, do you feel like times are changing in the country? And do think you're a part of that movement?
BSK  I haven't lived in Mexico City – so I'm not too involved in what the city is about. But in general, Mexico has changed. When people talk about design – more alternative expression is being accepted. Mexican fashion can't be compared to Italy – it's behind and not at the core of trends that are generated in Italy. I think Mexico is finally finding a niche to allow new designers to show in Mexico, such as Platform by I-D Kitchen, that supports new talent. Fashion is a system – I had a performance in Milan, Italy and I thought about doing another collection for SS19 – I thought, "I'm my own boss!", if I don't want to meet the expectations of seasons, I don't believe I have to. So at the performance, I introduced the new silhouette of my next collection, which was still work in progress. A lot of designers burn out after a couple of seasons. I don't want to be like that.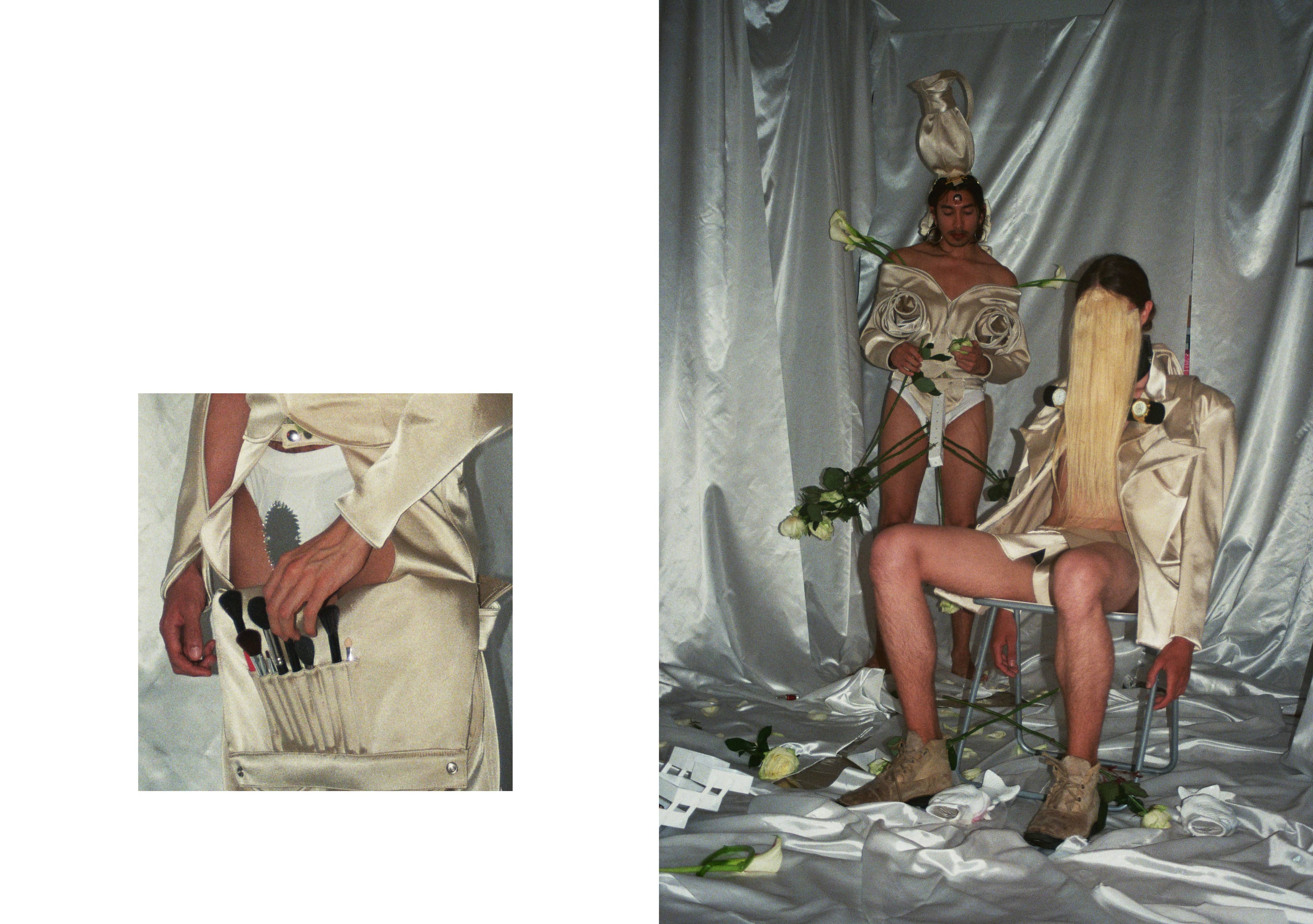 JV  Do you think your process of commenting on cultural references – do you think that that keeps you inspired? You touch upon Mexican culture, nuance, politics in Mexico and beyond… by incorporating art performances (ICA LA) and collaboration (Rafa Esparza) – is that your solution to not burn out – to keep the brand more energized.
BSK  Absolutely. I feel energized! When I got back to Mexico from the performance I was drawing non-stop. It inspired me. I believe it's the people you know and your surrounding that inspired you.
JV  Do you think that's a reflection of the creative generation in Mexico today?
BSK  I can't speak for fashion designers – I've never actually collaborated with another fashion designer – but collaboration has been the creative process that I use. I always say collaboration is the best way to experiment.
JV  Do you see these art performances as lookbooks?
BSK  What I did in Milan was a three-dimensional example of my inspiration for the next collection. It was about proportions and finding a new silhouette for that collection – it's like bringing my sketchbook to life.
JV  Who is the Sanchez-Kane muse?
BSK  Many of my collections have been inspired by the people around me, and therefore women play a very important part in a menswear brand. Mexico was a macho dominant country before, now women are powerful. Traditional stereotypes of Mexican society are changing.
JV  Should fashion be working towards a genderless construct?
BSK  Yes I think so. Let me use myself as an example. My brother is getting married and there's a protocol that I should wear a dress, but I don't feel comfortable wearing a dress. I feel sexier with a suit on. Even growing up, I always felt more comfortable with menswear. We should be working towards genderless fashion.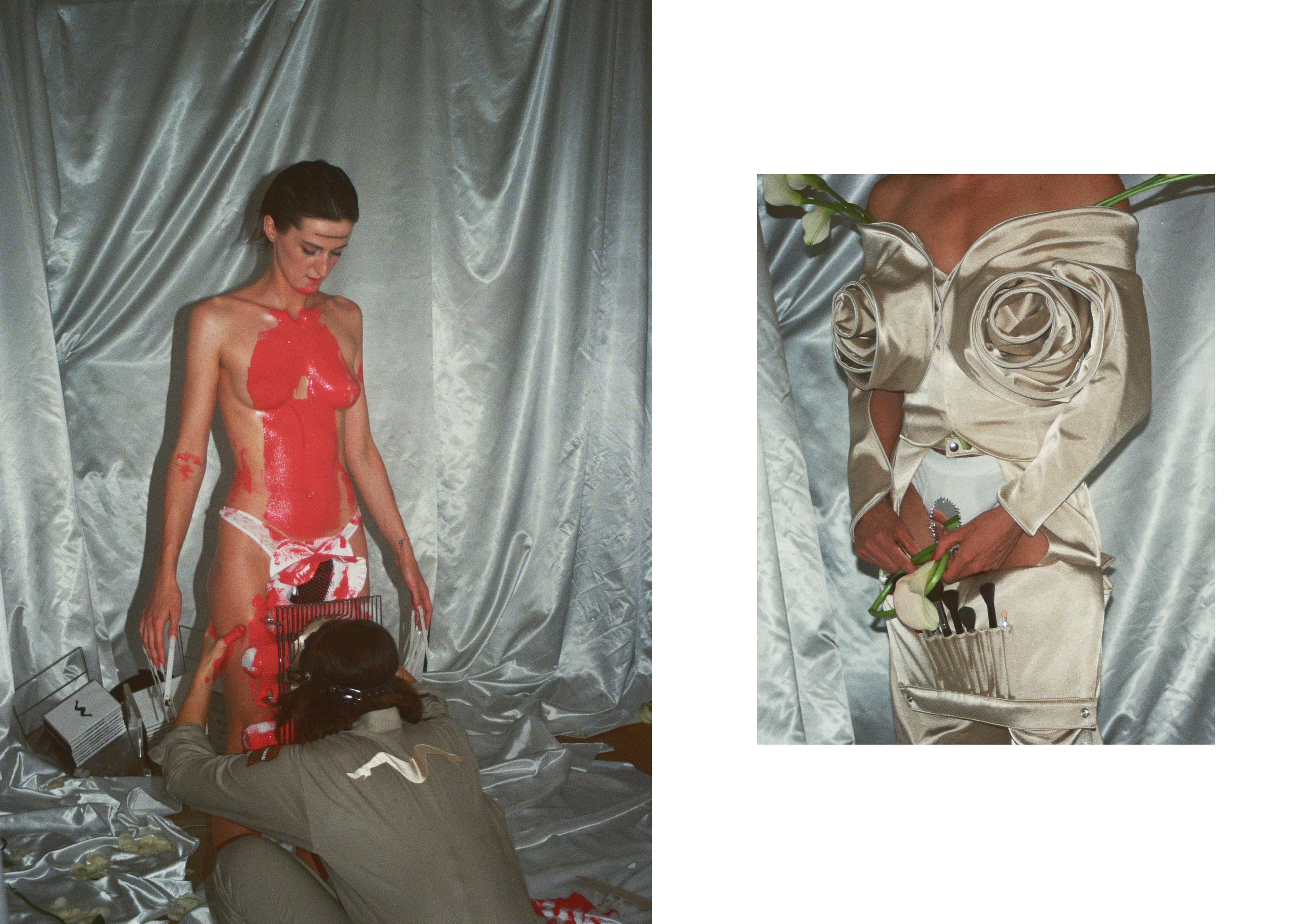 JV  "Mexicanidad-ism"
BSK  Mexican is the DNA of my brand. The colors, the kitsch, the traditions: everything! The culture is so rich. I'm literally inspired every time I go out into the street.
JV  You incorporate the nuances and cultural codes so successfully – such as the plastic sunglass rack or jelly piercings being sold by street vendors – veins of pop culture or youth culture – are these gestural?
BSK  The sunglass rack – I remember waiting in a shop – and the shopkeeper was selling these eyewear racks so I just put the whole thing on my face. It's vendor culture! Vendors are creative as fuck. Even if you've never been to Mexico you're not familiar with its everyday culture – street culture is universal – it's familiar.
I was with my tattoo artist and he had this piercing display, so I picked it up and held it against my face. It was transparent and it looked like all the piercings were on my face! That's how the Sanchez-Kane piercing mask came to be.
It's about painting what I see. It's not so much about the conceptual but working with things around me.
Collections are also shifting – spring/summer is fall/winter or vice versa – designers are beginning to free themselves from seasons – and soon genderless.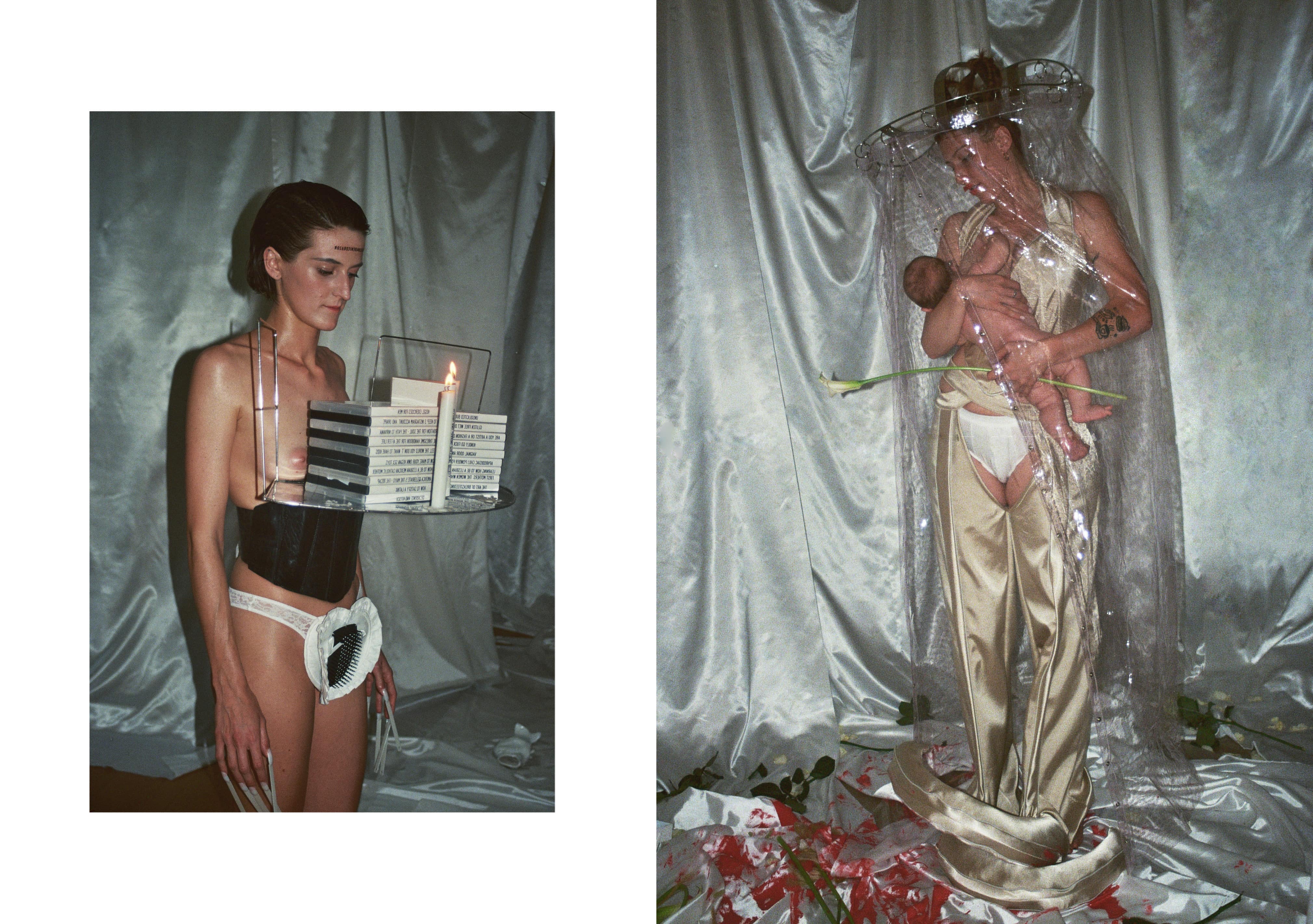 JV  What have been your highlights this year so far?
BSK  I had a collection F/W 18 – that I presented in New York. I did my first pop-up in Mexico City this summer. It was a lot of fun! I'm doing an installation in October
The Milan performance analyzed beauty, femininity, and motherhood. We filmed it all with a GoPro. It was a similar format to my performance last year at the Institute of Contemporary Art, Los Angeles (ICA LA).
JV  I know it's been spoken about - but in your own words, how you use people of color as your models
BSK  I believe the fashion industry needs to understand better what Latins are all about. Mexcian comes in different varieties. Mexicans don't look only one way. I'm looking to represent a wider meaning of what being Mexican is.
I was amazed by the photographer, Dorian Ulises López Macías, and his project "Mexicano". It revealed a beauty that had not been portrayed: the mixes that there are in Mexico.
Were only now beginning to see a lot of Latinas at fashion week.
When you collaborate it's important that everyone involved admires one another's practice. It's the only way to start a dialogue.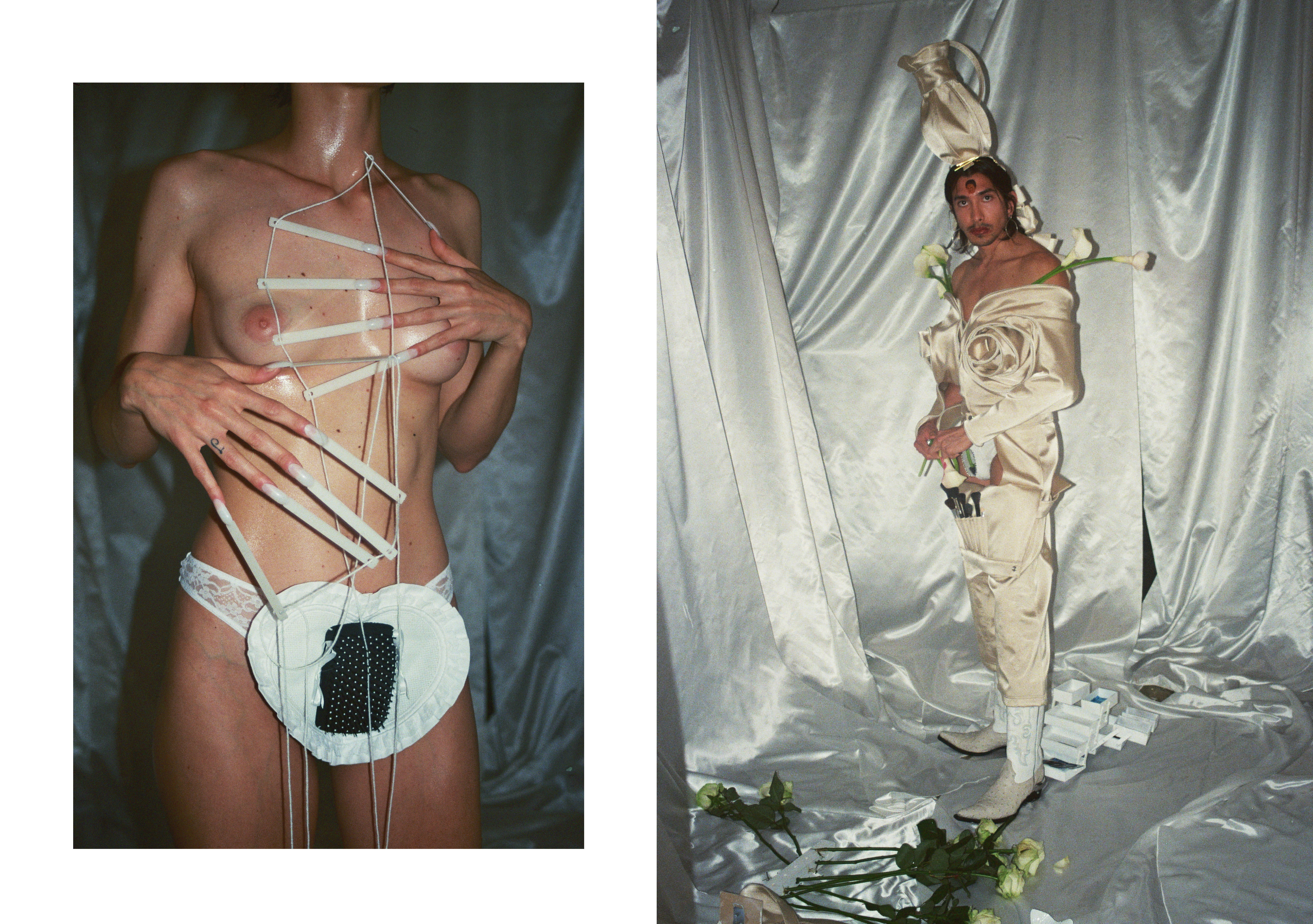 JV  - No Rules: you're not following the fashion calendar – you do what you want to do – you have infinity to LA, where there are no rules – the city is so experimental.
BSK  There's a lot of my community in L.A. 
There is nothing glamorous about starting your own brand. The day that I stop enjoying fashion, I'll quit it. I don't believe in investing in something that doesn't speak to my heart, mind, and body.
I'm very excited about the future of Sanchez-Kane. 2018 was about the reorganization of my brand and who I'm working within the business. I'm hoping 2019 is going to be stronger. I'm really excited for next season. The collection will be more commercial, without losing its zany identity.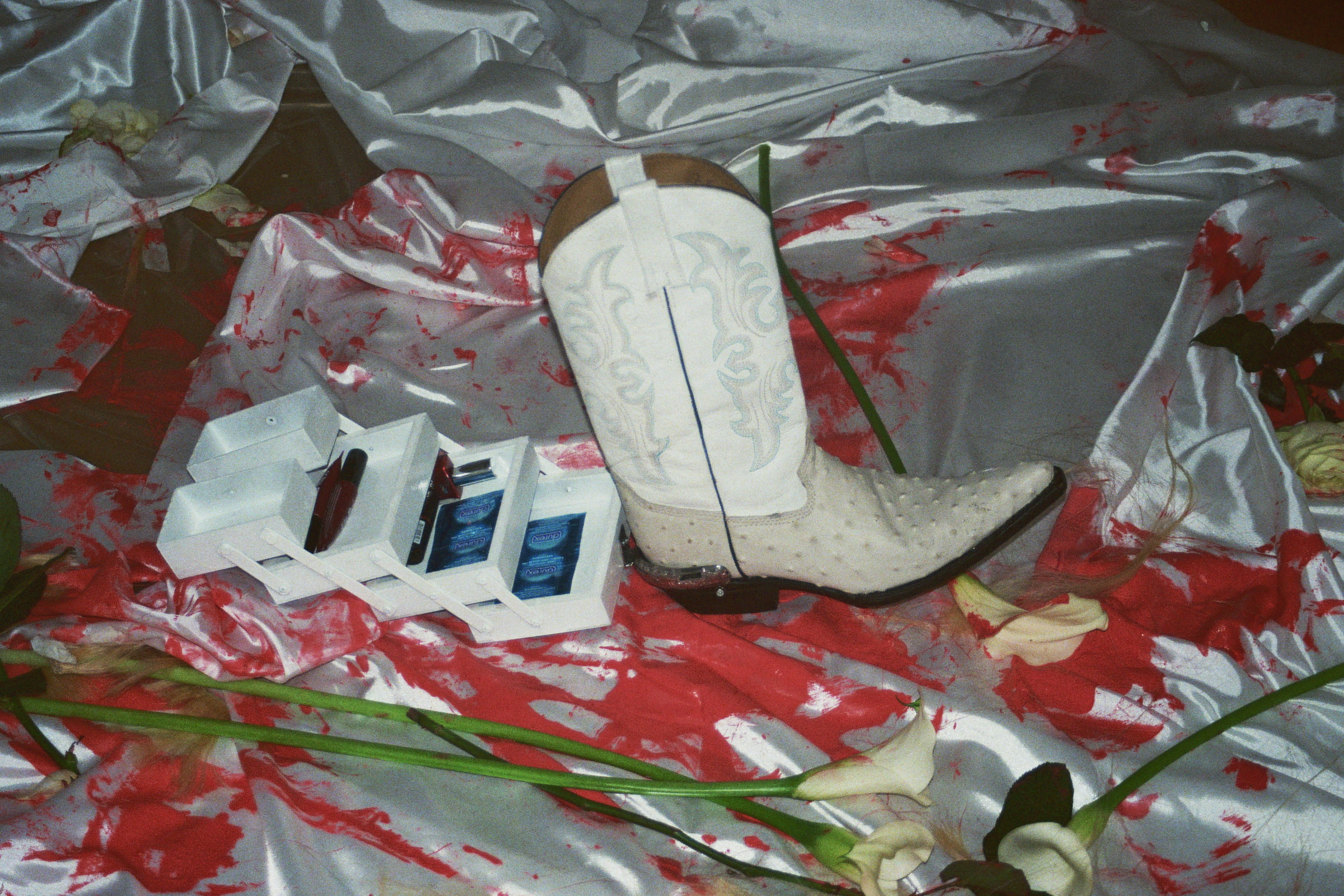 Bárbara Sánchez Kane full interview appears in TUNICA Magazine Issue No. 7. Get yours here.