Othelo Gervacio
"I see the flowers as anthropomorphic - the compositions reflect the complexities of human emotion and human relationships", explains Brooklyn-based artist, Othelo Gervacio on his still life subjects.
His multi-disciplinary practice draws from the timeline of floral tradition and fascination in art history; from the theatrics of seventeenth-century Dutch Master paintings and Cy Twombly's inscribed canvases through to Irving Penn's anatomical assemblages and the provocative style of Robert Mapplethorpe.
The series – explored through drawing and painting - captures the very last crescendo of life that a cut flower struggles to sustain between vivacity and the impending wilt of death. Exuding emotional contradiction – melancholy, optimism and romance all at once – the flowers seduce and evoke, most recently gaining the attention of Beyoncé who featured Gervacio's blooms in a 'Date Night' editorial of 11 images of her and husband JAY-Z, which premiered on the performer's Instagram and website after the announcement of her pregnancy earlier this year.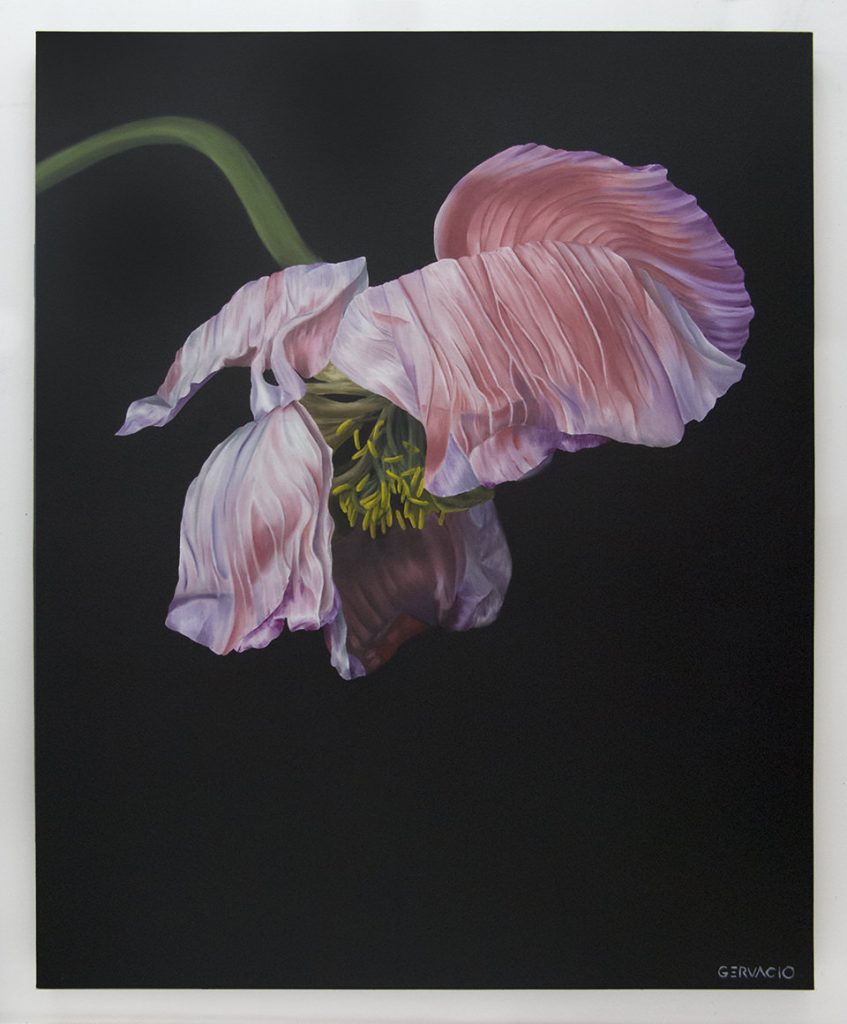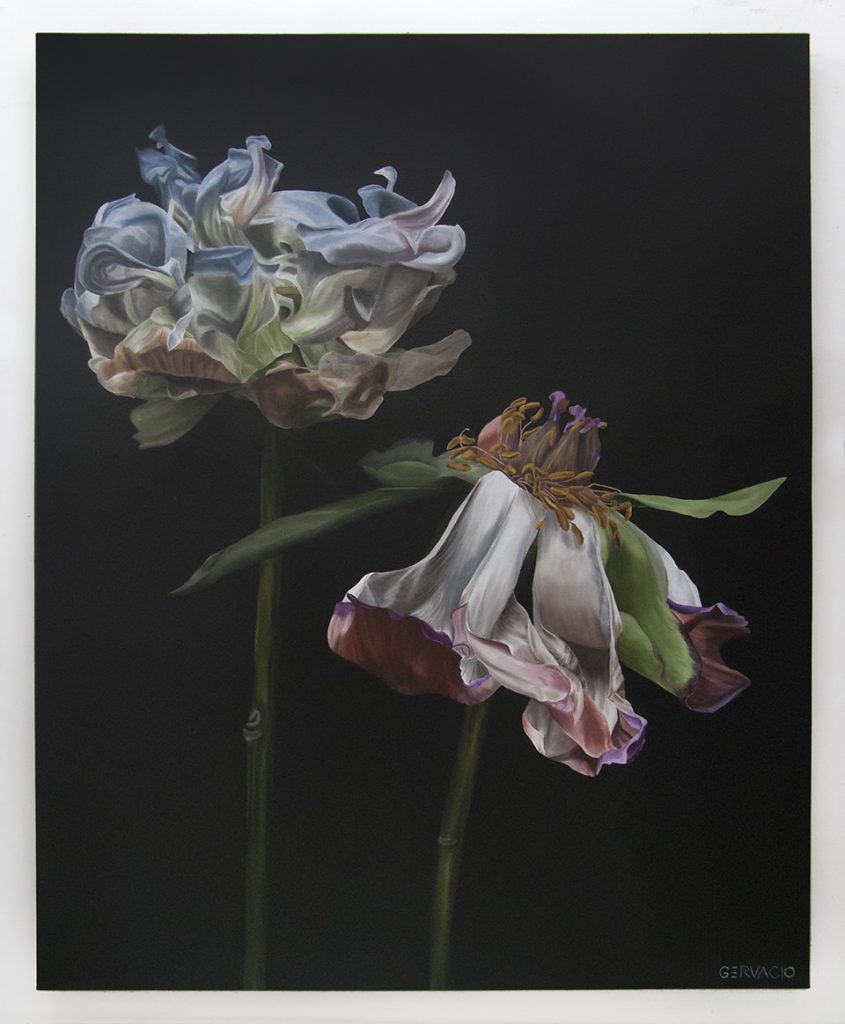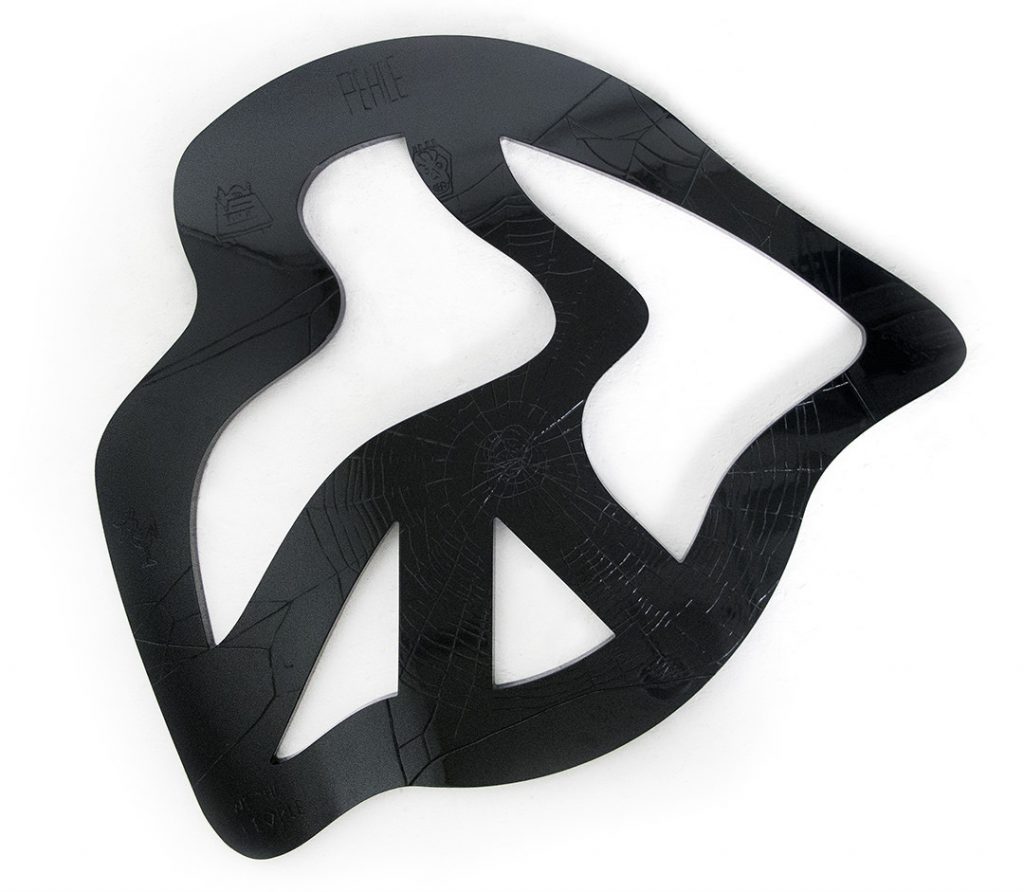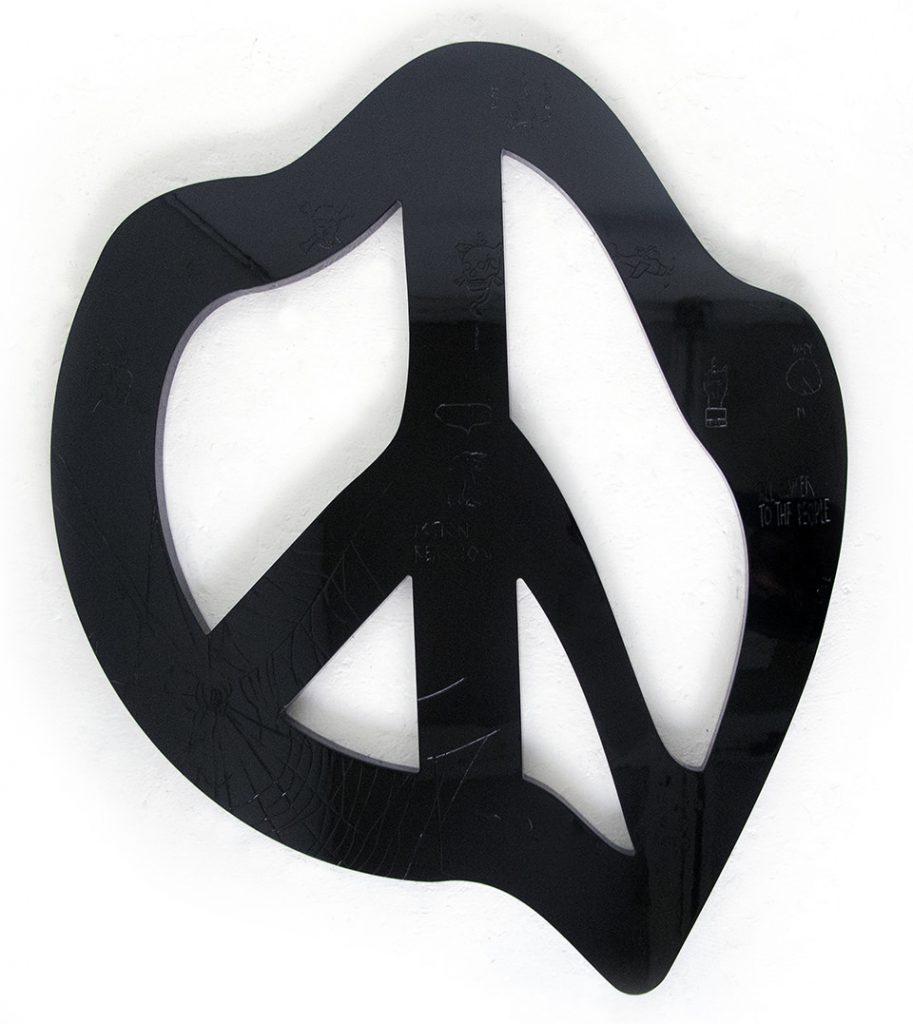 A former graffiti artist and mentee of tattoo artist and illustrator Scott Campbell, Gervacio is no stranger to opening up his practice beyond the walls of the gallery. He balances his art making with bi-coastal creative agency Alldayeveryday and has collaborated with fashion label Off-White on graphic tee designs for their Fall/Winter 2016 collection.
Building upon the lexicon and symbols of Punk and Pop culture, Gervacio creates a tension with his underground aesthetic. Whether it's borrowing advertising methods by using witty internet aphorisms and satire or playing with depth, texture and contrast using digital rendering versus technical hand skills in ink wash, watercolor and pencil, the exploration of the layered surface results in a palpable viewing experience.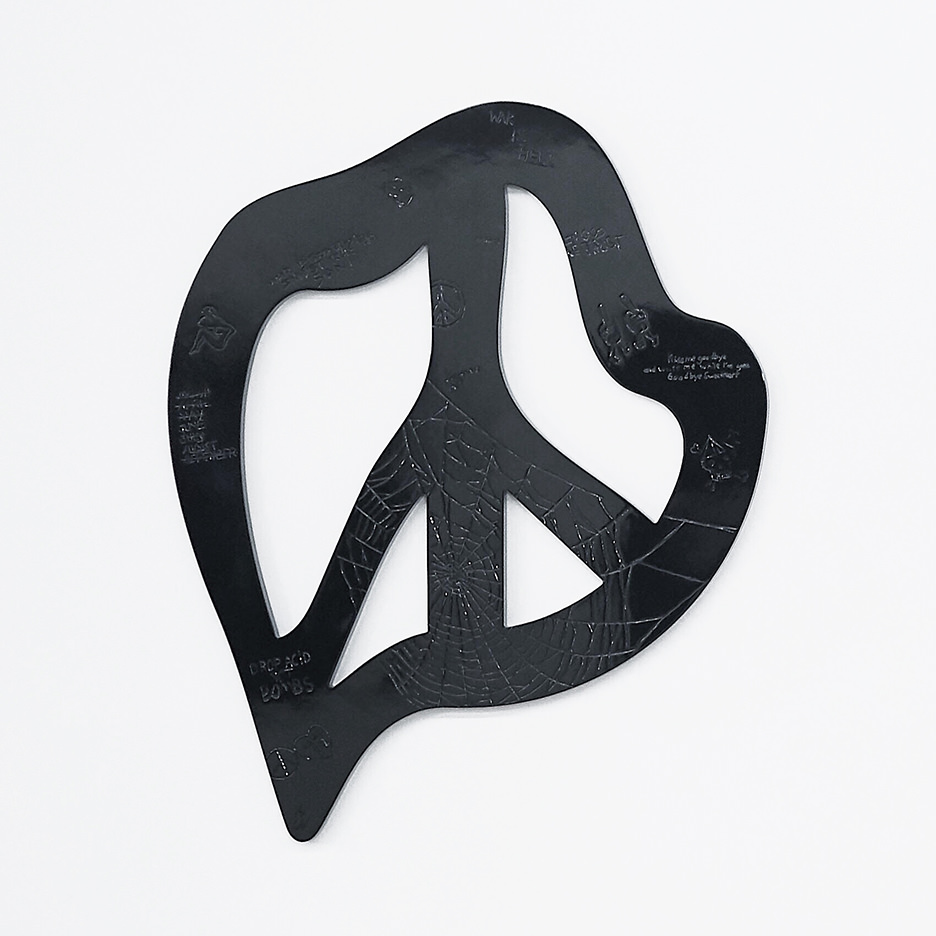 The artist now finds his work taking on new narratives by the day in the current volatile climate of American political policy as the uncertainty of peace continues to be put into question. 'Warped Realities' comprises of a series of wall sculptures in the shape of tripped out peace signs, droopy and impotent.
Each sign, uniquely different by its distortion, is graffitied with imagery before being coated in a high gloss black polyester finish. Gervacio uses rotary tips and a pocket-knife to etch symbols and gestures replicated from military paraphernalia.
"The iconography is made up of scrawls originally created by disillusioned soldiers of past wars from their lighters, helmets, jackets and so on. They all seemed to express the same message: "Why am I here?", "Why are we fighting this war?" and "Get me the fuck out of here".
Reflecting the agitated ideal of peace, so too is the topography of the sculptural surface consisting of a network of cobwebs, strikethroughs, skulls, pin-ups and ironic smiley faces as well as the words 'BORN TO LOSE', 'SLAYER' and other apocalyptic sentiment. "There are millions of interpretations of what 'peace' means", Gervacio asserts. "The versions I'm creating are meant to represent all the different perspectives, realities, and non-realities — all the incalculable 'Warped Realities'".
The internationally recognized peace symbol was designed in 1958. Nearly 60 years on, the stark reality is that peace remains an unattainable ideal.
Where Gervacio's flowers offer a flirtatious contradiction between natural beauty and mortality, 'Warped Realities' presents a more literal, dark and cynical vision of contemporary culture by posing the question: are we too warped to change the status quo?