Nicholas Stevenson
Nicholas Stevenson is definitely more than a myriad of brilliant illustrations and paintings. His body of work is fun and playful, yet bears a rather disquieting tone. He is a storyteller. Colors allow him to dream further into the plentiful, contemplative worlds that fill his days. Illustration clients include The New York Times, Don't Panic, Anorak magazine, Oh Comely, and Warner/Chappell Music, among many others. Also, music accounts for a great part of his life, expressing himself with an eponymous project and another band, Mr Dupret Factory. His talent has already granted him opportunities to support well-known musical projects: Mumford and Sons, Frank Turner, Karima Francis and a few more.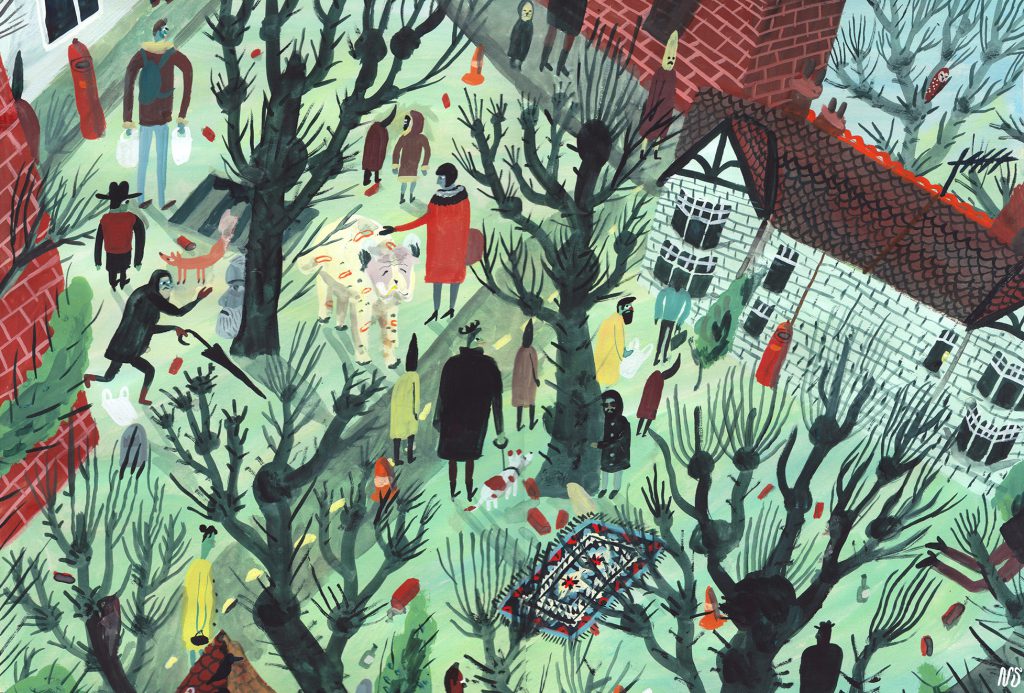 S. First of all, tell me a bit about yourself.
N. I am a London-based illustrator, half English/half American via a briefly tropical childhood in The Seychelles. I use paint whenever I can, lots of paint, and I always forget to put the lids back on.
S. What have you been up to lately?
N. I am working on releasing my new album, much of my drawing work lately has been for myself; animating little videos and designing sleeves. I also went to an exhibition of Japanese Outsider Art in London. Someone made pajamas covered in hand-painted fried chicken.
S. Where do you find yourself getting inspiration from?
N. I often draw inspiration from small events around me, or get excited about pieces of junk and objects that I collect. Even when I have a brief to work on, I always have a few personal agendas and things I want to include, whether it's a color, a pattern or a weird figurine in the background. Another source of special inspiration are the rare times when an album that's running round your head crosses over into the book you're reading and mixes with current events, then it all gets mashed up in your dreams. This happened once in high school with The Smiths and The Great Gatsby (no idea how that worked). And now a book called Living by Henry Greene and Midlake's Bamnan & Silvercork album.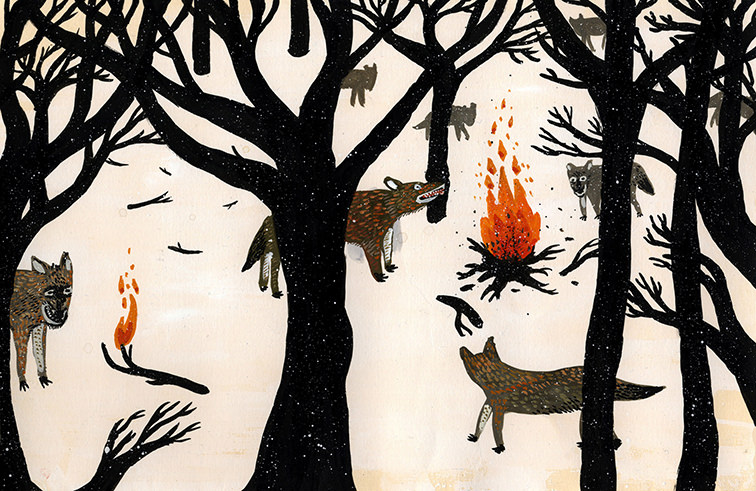 S. I bet your personal sketchbook is just amazing. Do you usually show it to people?
N. I'm quite precious about my sketchbooks now. I once brought them to a gallery show, but I would only let people thumb through them if I was present to keep an eye. They've become a bit looser and more disparate as my working methods have changed, but the sketchbooks I kept during my studies were edge to edge paint and are still some of my favorite creations.
S. I know you're also a musician. I mean, isn't that too much work for just one person? How did that happen?
N. It is, yes! I'm actually in two bands (Mr Dupret Factory and my own band) and I work in a busy shop so I can pay rent, too. I always drew and made music and never quit either practice.
I chose to study illustration, but then, while I was at art college, the Student Liaison Officer heard my bedroom demos and took me onto his music management project. He got me some good shows and helped me promote my little records. I've always run illustration and music in tandem, and so far neither has eaten the other.
S. Are there any differences between your photographer persona and your own personal self, career aside?
N. Yes, there are some differences, even though I try to make my "fashion" work conceptual and personal too. I just camouflage it, so it is harder to see, I put my ideas there, into a pop bubble. In my personal work, I focus on my self-portraits and portraits of my boyfriend David and best friend Katarina. Also, there is a certain amount of nudity involved in my personal projects.
S. What kind of camera do you use?
N. I love to shoot on film cameras. There is nothing better than the feel of grain. I'm not really a fan of shooting numberless photos on digital, I rather think before I shoot, not afterwards. Also, Photoshop is a big NO for me.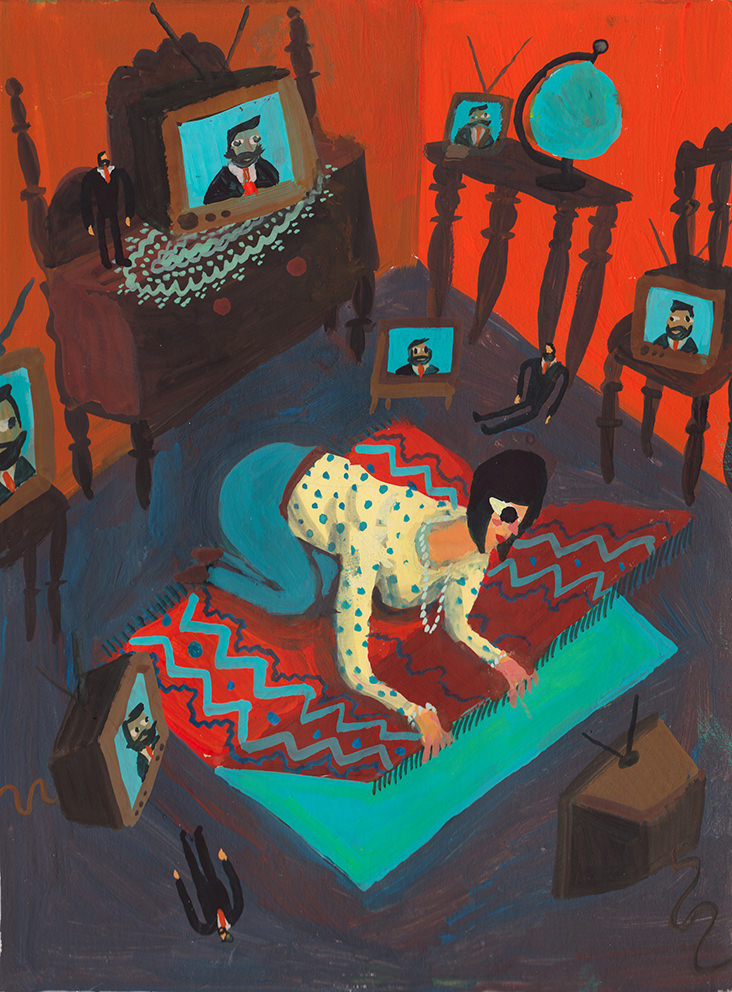 S. When I started exploring and going through your artworks, I realized you also like to tell stories. Is that true?
N. YES, although I've so far avoided doing a proper graphic story or comic. I think I prefer the challenge of telling a story in just one image, or finding ways to imply the moments before and after the image I've drawn. Illustrators need to find ways to do things filmmakers can't do. We're so much more than storyboarders; I want to find other dimensions of space, impossible angles, unreal light, magic atmospheres.
S. What do you prefer: color or texture?
N. Color. I love selecting new paints at the art store, and often use my favorite shades straight out the tube. Matisse and Howard Hodgkin are the masters of color... I'm striving to find their level of boldness without going abstract, which may well be impossible, but I can try. Texturewise I've got a few old and messed up brushes which make great accidental textures and stop things getting too flat.
S. Tell me something I wouldn't know about you even if I searched online.
N. I'm obsessed with loons. I have a loon jumper, a plush loon, a wooden loon, loon t-shirts. Loons are awesome.
S. Is imagination your greatest tool?
N. Yes it is, and it's yours, too!